You are a project manager, team lead, system administrator or HR using the Relativity platform? You face challenges and spend a lot of time carrying out meetings and writing emails to different teams in Relativity with the purpose to keep everyone informed about key news and events? But you don't seem to find the optimal way of ensuring that each team member would receive and acknowledge the needed information, and review the necessary files, and that no one would miss out an important event or document?
The resolution of all these challenges can be easily achieved with the use of the messaging alert application for Relativity – MaxMessage.
MaxMessage provides you with the ability to communicate with different target audiences in Relativity by creating and scheduling rich-text messages with added attachments, which reach the selected recipients in the form of pop-ups in Relativity that cannot be skipped or ignored. The even greater feature of the app is that it allows you to receive detailed information on the status of each sent message.
Let's see how all this works.
First of all, the application provides you with the ability to view a list of all created messages in one place together with essential details regarding the targets of the message, its active period, attachments, whether it is enabled, and who is the creator of the message.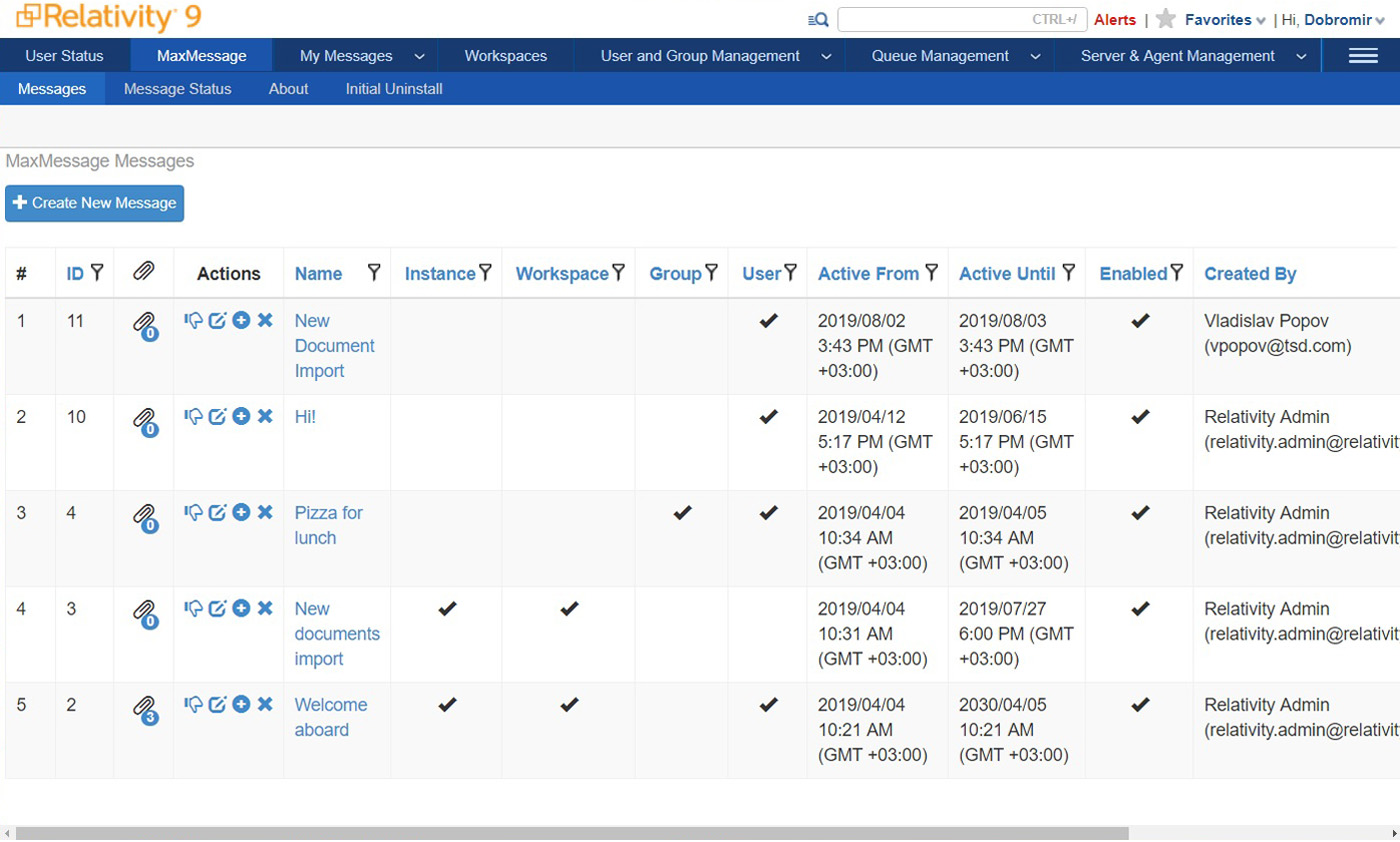 When you create a new message you are enabled to set a whole message configuration, which includes writing down a message name, selecting different targets such as a single user, a group of users, a particular workspace or the entire Relativity instance, specifying active period of the message, adding file attachments, typing the actual message text, choosing whether the message should be enabled or disabled, and save it. All these options offer you the ability to reach different audiences with the corresponding messages they need to get. The scheduling option saves you time and ensures punctuality.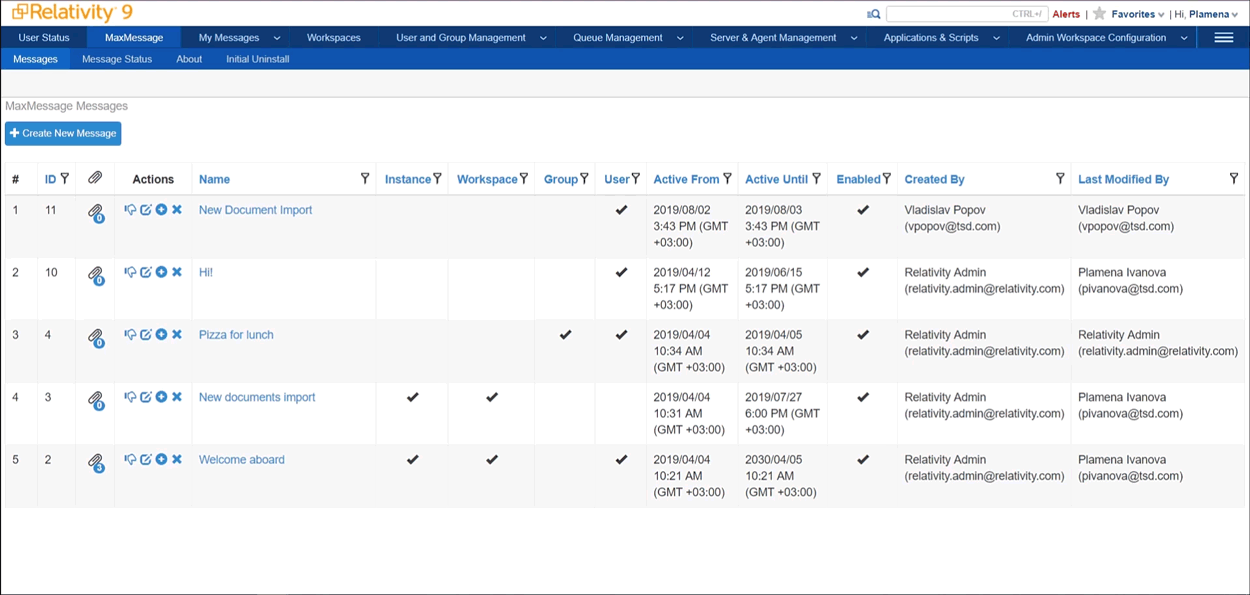 As soon as the message configuration is created and saved, you can go back to your Messages tab where you can visualize the message with all its details such as targeted audiences, content, attachments, when the message starts being active and when it expires, when and by who it was last modified, etc.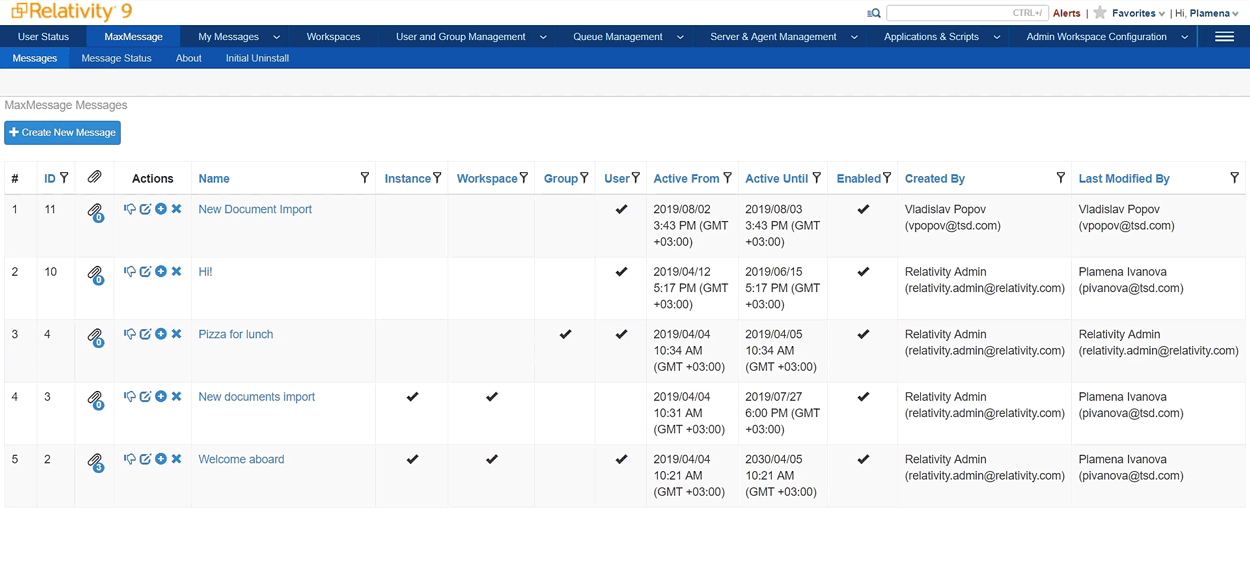 After it has been enabled, your message will reach your targets the moment they log in to Relativity. The message alert will instantly pop up on their layout no matter where exactly in the platform they are currently working. There is no chance for your recipients to miss out or ignore your message as they have two options to choose from – to acknowledge the message now or later. This essential feature of the app makes sure that your target audience will always be up to date with the important information that you have shared with them.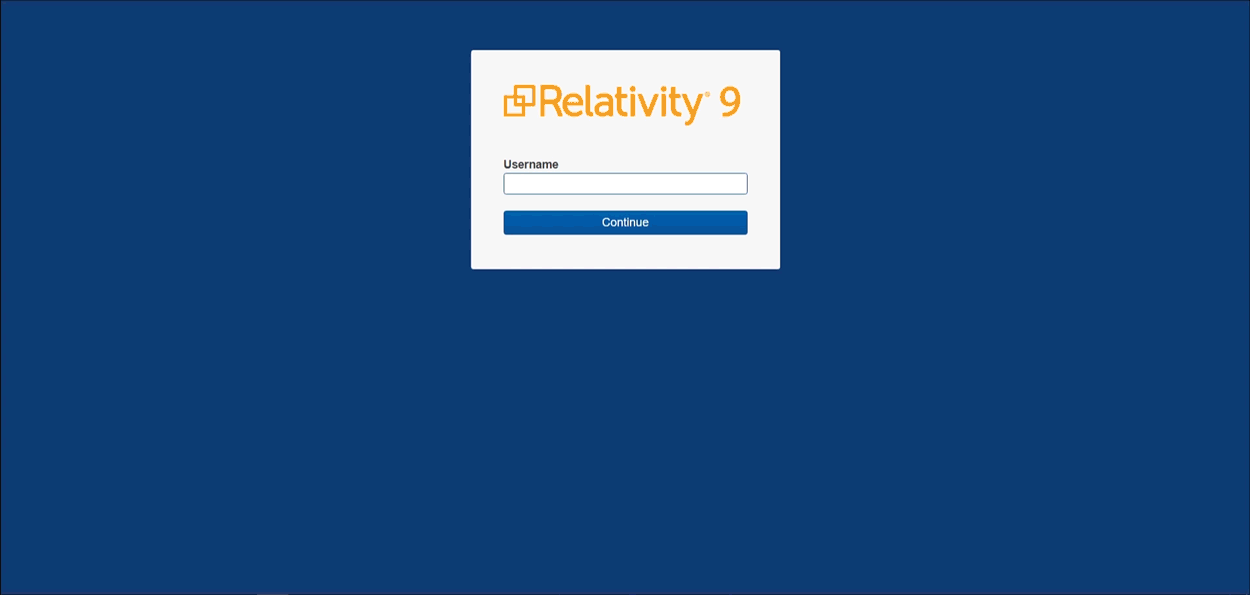 If you decide to leave the received message for later, you can always go to My Messages tab, read it, and download the attached files. You have the convenience to store all your messages in one place and easily find the information whenever you need it.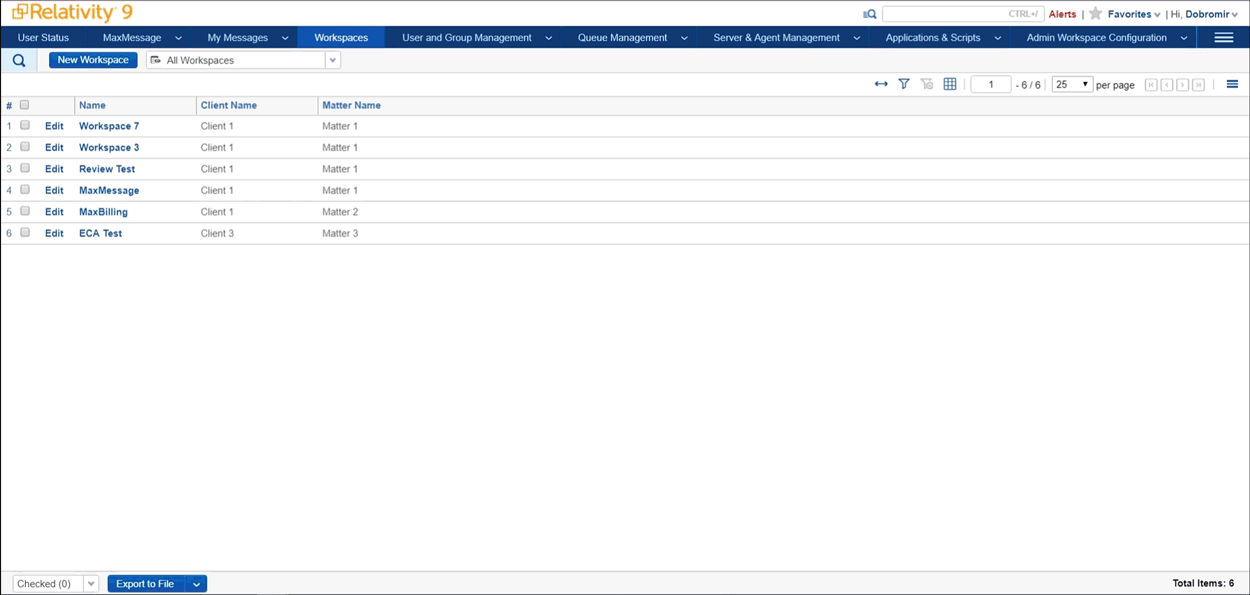 One of the major advantages of MaxMessage is that it provides you with an access to the much-needed message acknowledgment history. It allows you to check the status of your sent messages at any time, which includes detailed information regarding who has seen and acknowledged the particular message and respectively who has not, when exactly they have seen the alert, when the message has been acknowledged and whether the recipient has downloaded the files and which particular ones. This efficient functionality helps you keep track of all the information you want to convey to your teams as well as their interaction with this information.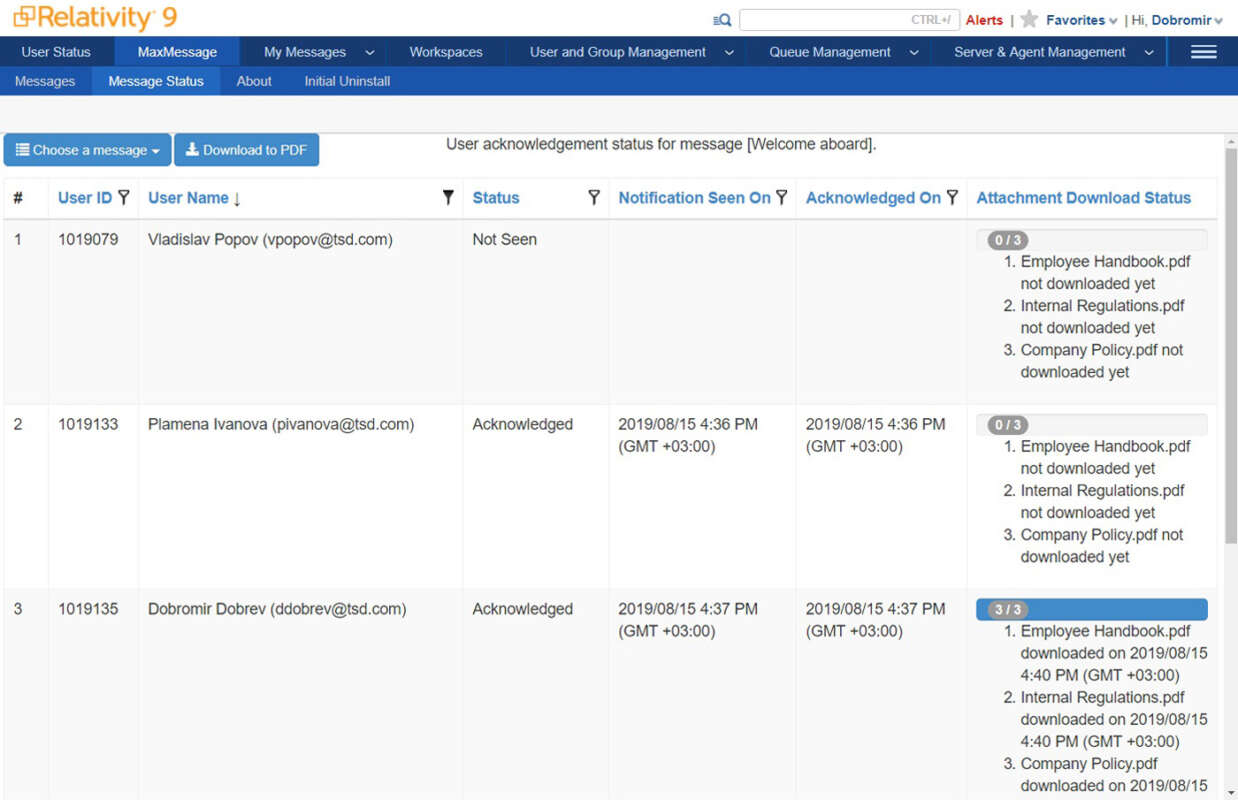 In case you would like to improve the communication with your teams in Relativity, MaxMessage is the right fit for you.
Now you have the exciting opportunity to get MaxMessage free of charge, so act instantly and ask about the app's free version by reaching out to sales@tsd.com. We would be also happy to arrange a live demo for you and your team to show you how you can enhance your communications within the platform.
You are planning to visit Relativity Fest in October? Our team would be glad to meet you there and chat about messaging in Relativity and other eDiscovery needs and challenges you might have.