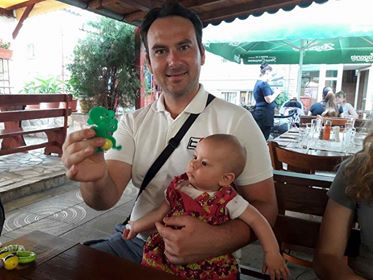 We would like to introduce to you the very first employee of our company, Angel Stanev, who started from ground zero and is currently an asserted professional, and also one of the most highly qualified team leaders in TSD.
When did you start working at TSD?
– I joined the team at the beginning of September 2007.
On what position did you start?
– I was conducting infrastructure monitoring for our exclusive client at that time.
Why did you choose TSD?
– I used to work in an entirely different field at that time, that wasn't related with IT. German (our CEO) offered me the job and I decided to give it a try.
What do you like most in your job?
– I like the opportunity to develop better technical skills and grow in my profession, which brought me to the current position of a team leader of 5 multinational Application Support Engineers.
Which are the biggest challenges in your job?
– One of the most difficult things is to make the best possible decisions that will lead to solving an occurred problem in a timely manner and with lowest impact on the business. The other challenge for me is to properly assign and explain the current tasks to my team, as in some cases it would take me less time to complete them by myself, but as you might know, managing people is never easy.
What are the fundamental skills that one needs to possess in order to do your job?
– Good communication skills and taking responsibility for their own actions is crucial for anyone who wants to be good at their job. If you are a fast decision maker with decent analytical skills, then I would encourage you to try a job like mine.
Have you ever thought of changing your occupation?
– Just like every guy out there, I've looked into some other options such as going to live abroad. However, I prefer living in my home country and working in the town where I was born. Here I have the opportunity to manage my free time much better.
What would you advise a guy who wishes to take your professional path?
– They must develop bravery, persistence, positive attitude, good communication skills and the ability to cooperate with others.
How do you spend your free time?
– I love being with my wife and my seven-month-old daughter Angela, who is my tiny little princess. I also enjoy practicing Bulgarian folk dances and because of that I joined the local folk ensemble called "Trayana". I had the chance to visit several different countries with them, where we popularized the Bulgarian tradition. I like doing sports too, when I have the time.
Would you like to wish something to TSD for its 10th birthday?
– I wish to the company to keep respecting and acknowledging its employees' devotion, and to generate many more professionals in the future with 10+ years of service like me.