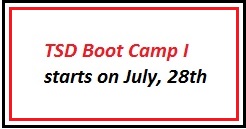 We all at TSD see a need for more and better IT workers therefore today we launch its initiative called Boot Camp I. The initiative aims to enable new employees without experience and education in the IT field to become software developers, QAs or IT system analysts. TSD already have the success in modeling and upbringing of resources from the ground up, so we all don't doubt in the final results.
Mentor will be Milen Kozhuharov.
Welcome on the board and good luck Yana, Hristo, Ludmil and Svetoslav!