We are excited to share that our 2019 Internship Program has been 100% successful! We decided to do a blitz interview with both our former interns and current TSD employees, who passed their summer internship at our company's Plovdiv office with flying colors and are now an integral part of TSD's app dev team as junior developers.
Let us introduce to you Kaloyan Peshterski and Nikola Siderov who will tell you more about TSD Internship Program from interns' perspective, including their level of software development knowledge and skills before joining the internship, and how exactly this opportunity helped them kick off their career in the profession they have chosen.
        1. First of all, congratulations on your successful internship completion! We are glad you chose TSD to set the start of your IT career. Can you tell us what your university major is and what was your level of experience before joining our internship program?
Kaloyan: Thank you so much! I started the internship program in TSD right after I had completed my bachelor's degree in Business Information Technologies at the University of Plovdiv, so I actually had zero experience in a real working environment. I came here with the fundamentals of software development plus the personal motivation to advance my skills fast.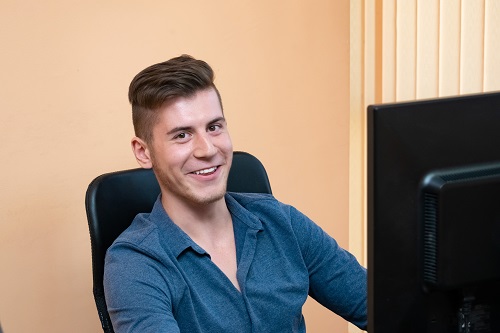 Nikola: Thank you! I am pursuing a bachelor's degree in Software Engineering. Before joining TSD's internship program, I'd had limited experience in the practical side of software development. I had worked on problem-solving exercises and a few personal projects.
How did this internship help you develop your software development knowledge and skills?
Kaloyan: For the last 4 months, I've learned quite a lot of new things related to software development. But most importantly, I learned how to quickly adapt to different situations and circumstances. The internship helped me understand how a software company operates, observed from a developer's point of view.
Nikola: This internship was useful to me in many aspects of software development. It did not just significantly improve my technical skills, but it also allowed me to get a better insight into the software developer's role and responsibilities as part of the entire workflow.
We are pleased you will be staying with TSD for keeps. Why did you decide to remain a part of our team after the end of the internship?
Kaloyan: I am grateful that TSD offered me the chance to join and stay with this friendly and experienced team. TSD works on a lot of interesting projects for various industries and purposes, and I am happy that I started my career here.
Nikola: Because learning through working on real projects with qualified and skillful colleagues has shown me that this is the most efficient way of improving myself professionally. Thank you, TSD, for the provided opportunity!
What are your expectations in terms of your future software development career in the company?
Kaloyan: To become better and better at what I do every day by working on exciting software development projects and facing challenges which will keep enhancing my practical skills.
Nikola: I hope, and I am positive that the work in TSD will remain interesting and challenging, and the team – as enthusiastic as I am.