For quite some time now, TSD Services has been actively engaged in the local sports life. Our team has shown great contribution to the development of basketball in Troyan. For three years now, the company has been a sponsor of the local basketball club Chavdar Troyan, consistently supporting it financially throughout the whole year. For those who are not so familiar with the facts about local basketball, the club includes an official men's team, founded in 2009, and nearly 100 kids. It is also a member of the Bulgarian Basketball Federation. TSD sponsorship goes towards the entire basketball ecosystem aiming to back all talented players up and offer them a better development opportunity.
The latest news on this topic is that Troyan already has a new amateur basketball team named after TSD Services due to the provided sponsorship. The people who made that possible are a few sports enthusiasts, among whom is the CEO of the IT company German Gachevski, who gathered in the name of their passion for the game. The team TSD Services – Troyan has recently signed up for the National Amateur League of Basketball.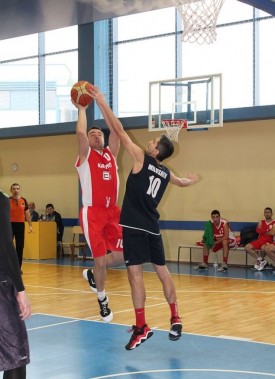 It is a league which popularizes basketball around the country and unites the Bulgarian basketball community. The newly-formed team will participate in Central Region, which is one of the divisions of NALB, and will play against teams from other towns like Gabrovo, Veliko Tarnovo, Svishtov, Tryavna, etc. The fans of the game will soon be able to witness the team's performances in different tournaments around the country.
The fact that the players from the basketball team are non-professionals shouldn't make you underestimate them at all. They manage to get together three times a week and practice their favorite sport despite their busy daily schedules. Watching them play on the basketball court is both entertaining and inspiring. All of them seem quite passionate and dedicated to the game so we can surely expect major achievements going forward.
Being the general sponsor of the new basketball team, TSD provided the players with attractive branded sports outfits, matching the colors of the company's logo and identity. The creation of the Amateur Basketball Team is a symbol of Teamwork and collaboration, which corresponds to the company's values.
TSD Services will continue with the sponsorship of the club with the idea of further developing basketball in Troyan and supporting all local talents, giving them an opportunity of expression.