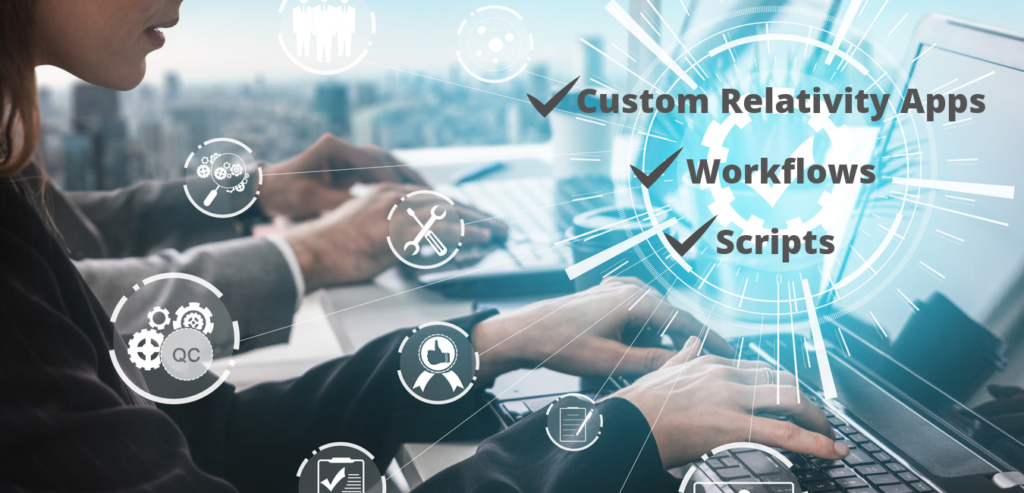 Are you using custom-built applications within the Relativity platform? How do you ensure they are kept error-free, compatible with your current Relativity version, and delivering the necessary value to your work in the platform? The most efficient way of maintaining apps in impeccable operation and compatibility condition is to rely on a support and maintenance service performed by working behind the scene expert quality engineers. Having that in hand, you are provided with the peace of mind that your Relativity integrations will be properly functioning along your work activities inside the platform. Such service will always keep you up to date, contributing for a flawless Relativity experience.
Why do you need support and maintenance for your custom Relativity applications, workflows and scripts?
No matter if you are using a Relativity on-prem version, you have already made a transition to RelativityOne, or you are a user of both, your custom integrations need to be regularly tested and supported in order to be able to operate correctly and seamlessly during upgrades of the platform, as well as at any other time of their usage.
As it is commonly known, maintaining in-house quality assurance and support engineers can be quite costly and engaging. Therefore, our Rela team specialists have come up with the ultimate solution, which efficiently covers all needs and steps in terms of custom applications support and maintenance. Having subscribed to our service, a number of customers using Relativity are enabled to rely on our professional assistance completely, which has eliminated their worries about apps compatibility and warranty issues.
How can our support and maintenance service be beneficial for your organization in Relativity?
Here we will look into all challenges and issues you might face with regard to the compatibility and warranty of your custom applications, both on premises and in the cloud, accompanied by their easiest solutions provided by our support and maintenance offering.
Custom applications in Relativity on-prem versions
Compatibility issues during platform upgrades. Typically, on-premises software has a slower and heavier cycle of release updates. These updates may require changes in your custom integrations, which will involve serious IT involvement.
You are planning an upgrade to a newer version of Relativity? There is a good chance that your custom apps, scripts and workflows would become malfunctioning after the upgrade as they would not be compatible with the new platform version. Here comes our compatibility testing, part of our all-in-one support and maintenance solution, which is performed prior your actual upgrade to make sure that all your custom integrations will be fully compatible and ideally functioning as soon as you move to the next Relativity version. This way we also ensure that your business continuity with the platform is kept intact.
Emergency warranty situations, bug fixing and customization. When working with a software product there is always a real possibility for it to show a bug or error while you are operating with the application and when you at least expect that to happen. The support and maintenance for Relativity apps provides rapid, on-time fixes of bugs and errors detected by experienced quality assurance specialists, who will fix the product's defect before it has managed to impede your work in the platform. In order to prevent finding yourself in a situation of malfunctioning applications, selecting an option for a monthly or quarterly regression testing is the most appropriate choice, ensuring that your custom apps are always free of errors and ready for use.
Custom applications in RelativityOne
Frequent updates of Relativity cloud version. Due to the regular and rapid releases and updates of the cloud-based platform, your custom integrations can fail in operation after upgrades, causing trouble with your ongoing work activities. Therefore, if you are using RelativityOne, you should take into consideration that you would need more frequent support and maintenance services compared to users of on-premises platform versions. By counting on our quality engineers, you will have the privilege to know that your custom apps, scripts and workflows are up and running, stable and compatible with the RelativityOne updates at any time.
Warranty issues. Warranty is as important for cloud-based applications as it is for ones on premises. Operating with your custom apps in RelativityOne, you would also need them to be regularly tested and supported in order to ensure that they will be functioning properly and to their maximum potential.
You can benefit from our support and maintenance offering for Relativity-based applications built by TSD as well as for ones developed by another software vendor, so go ahead and pick your best matching subscription option here.
If you want to discover how our service can also help you with the successful transfer of your Relativity custom apps from on-prem to RelativityOne, read our related article.
In case you are heading to Relativity Fest Chicago 2019, don't miss coming by our sponsor pod to discuss your support and maintenance needs, as well as any other custom needs you might have. We would be also happy to present to you our Fest special offers! Meanwhile, ask your questions by reaching out to sales@tsd.com.