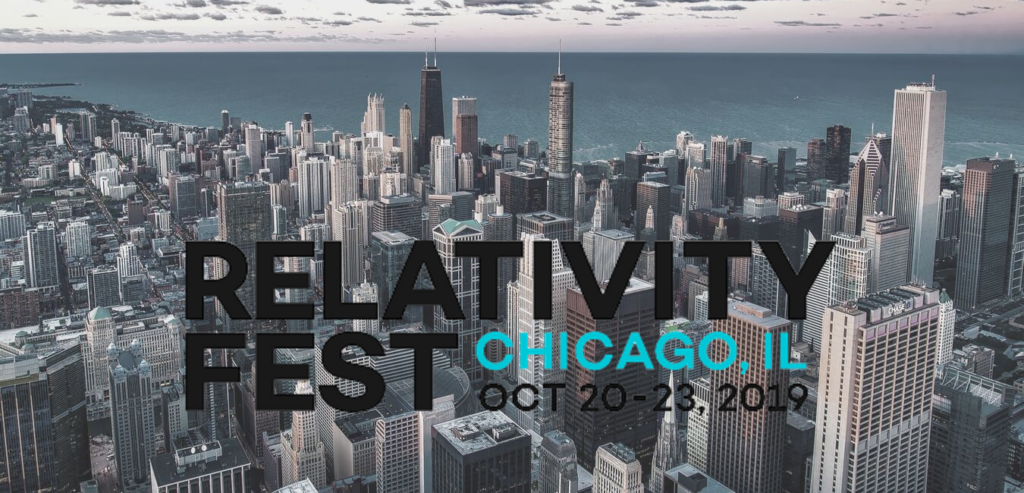 Relativity Fest 2019 is getting really close and TSD is eager to announce that our team will very soon be travelling to Chicago, once again being a part of the major eDiscovery event and also one of its official sponsors.
As a Relativity Custom Development Partner, TSD is excited to have the opportunity to network with the growing Relativity community for a fifth year in a row, while also presenting our top platform offerings.
If you are planning to attend Relativity Fest Chicago in October, you are more than welcome to stop by our sponsor pod, have a chat with our team and explore our special Fest offerings. Moreover, our Business Development representative Maria Marinova would be happy to give you a detailed insight into our Relativity-based product suite, services and custom development opportunities for the platform. So, if you are interested in discovering how we can help enhance your Relativity experience, you can meet our colleague in person during the event.
Here is a hint on some of the topics we can discuss with you and your team.
Facing billing-related challenges inside Relativity platform? We would be happy to make you familiar with our top Relativity application MaxBilling, which is a complete billing solution that automates and optimizes your billing process within the platform, saving you significant amounts of time, manual effort and error.
Need an automated notification tool inside the platform? Our Email Event Handler was designed to keep you and your team up to date with any Object changes within Relativity.
You are in need of ongoing support and maintenance of your custom Relativity apps and also need help with their transfer from on-prem to RelativityOne? We would love to tell you about our Support and Maintenance for Relativity Apps offering, which will cover all your quality assurance and compatibility needs both on premises and in the cloud.
You would like to get your developer teams educated and trained on Relativity custom development? We offer a Development Training for Relativity that provides you with the fundamental skills needed to code on top of the platform.
Furthermore, we would be happy to hear your ideas on platform extension and customization, which can be further developed and easily actualized with our Relativity Custom Development services.
If you are interested to learn more about the above listed opportunities and find out how they can bring value to your organization in Relativity, our colleague Maria Marinova would be glad to share more details in a face-to-face conversation at the Fest or in a place convenient for you.
Get in touch at mmarinova@tsd.com to arrange your in-person meeting with TSD's representative.
See you soon in Chicago!