Has your organization taken steps to automate its billing and invoicing operations in Relativity?
We are thrilled to inform you that our complete billing solution within RelativityOne and Relativity Server has been further upgraded with a number of valuable new additions and enhancements. MaxBilling now offers a next-level billing process experience in the platform, allowing for dynamic visualization and easy analysis of the report information and featuring a few newly added custom opportunities to fit your exclusive billing needs in Relativity.
Here, we invite you to take a close look at the latest features and improvements of our billing solution and find out how they can further optimize your billing and invoicing operations within Relativity.
What Is New in This MaxBilling Release?
1. New Features
Report Data Widgets
This is one of our top favorites among the recent MaxBilling additions. These colorful multi-layer graphics, available in the app's Dashboard, allow you a quick review and analysis on an Instance, Client, Matter, or Workspace level by clearly visualizing the entire billing report information and making it easy to digest.
By only selecting a Profile, Client, and Report, the corresponding report data is loaded on the chart along with detailed information on a billing item level in a table positioned below the widget. You can click on the chart's layers to conveniently switch between Report Total, Client, Matter, and Workspace breakdowns.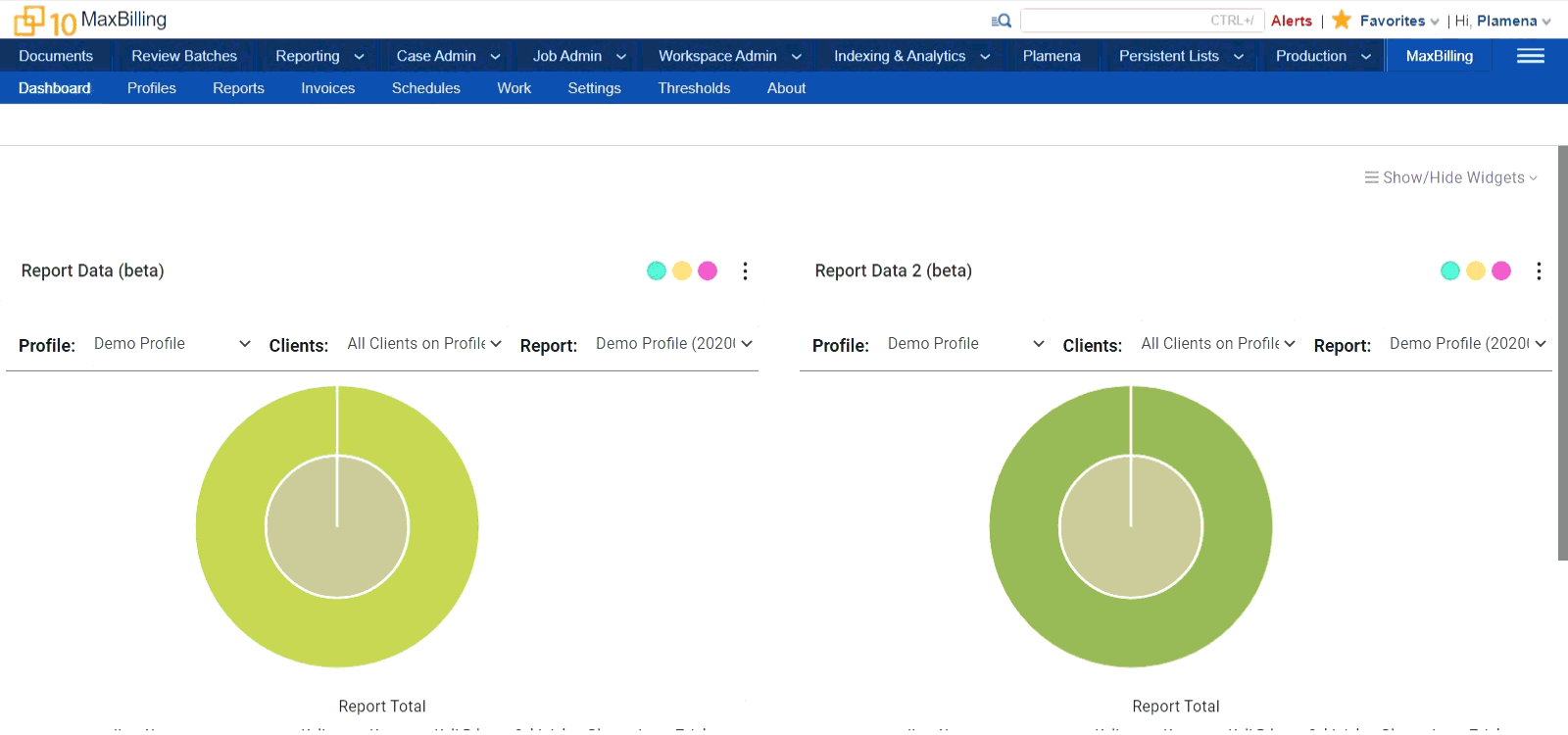 Email Templates
Another great new feature coming with the current release is that you are now able to customize the emails sent by MaxBilling application. By using a customizable email template, you can now apply any changes to email subject and body by adding custom text and using the available placeholders. The "Sent From" field is already customizable as well.

Customer Code
A further new capability implemented in MaxBilling is Customer Code. It allows you to enable a specific custom functionality in the application which is available to you only. This feature is a continuation of the opportunity to receive a customization on top of our billing solution, which can make the product cover the complete array of your organization's specific billing needs and requirements. Just share with us your billing challenge in Relativity and we will discuss the best way in which it can be solved with MaxBilling.

2. General Enhancements
 The new MaxBilling version as well features a number of useful overall improvements contributing to the excellent user experience with the application. Our team has implemented enhancements in different parts of the app such as MaxBilling Settings tab reorganization, Excel report files, Minimal/Maximal Cap, ExportData report files, and others. All the applied product improvements have taken the work with MaxBilling several levels further in terms of organization and easy and straightforward operation.

What Should You Expect in the Next MaxBilling Release?
New Billing Report Items
The app will include new report items capturing specific types of Production Set files size and count.
Enhanced Email Templates
The newly added email templates will come with more enhancements.
Enhanced Invoice Templates
New invoice template settings allowing you to apply new explicit rules in the invoice templates.
In case you haven't taken steps to automate your billing and invoicing operations within Relativity yet, our MaxBilling team would be happy to demonstrate the solution, showing you how billing in the platform has become extremely fast, easy, and accurate. You will also find out how one software product is capable of covering all custom billing needs of your organization.
Get in touch at sales@tsd.com now and request your free MaxBilling live demo!