How do you keep your team members notified of all edits and changes applied to different Relativity objects? This process is efficiently automated by our Email Event Handler tool available for on-premises Relativity and RelativityOne.
We are happy to let you know that the new release of our automated notification tool features a number of enhancements and new advanced opportunities in terms of triggering and sending email notifications.
Let's look into the fresh functionalities that can be found in the latest version of Email Event Handler.
Sending Email Notifications under Specific Conditions
We have built a functionality through which the application uses the following Relativity Field types as a trigger for sending email notifications:
Whole Number
Decimal
Currency
Single Choice
Multiple Choice
Fixed Length
Long Text
Date
Yes/No

New Send Email Trigger Condition Object
Users are now able to select any of the above-listed Fields as a trigger by using the new Send Email Trigger Condition object, part of the Email Template layout.
Users are additionally allowed to set different trigger conditions for a selected field and set values to the Send Email Trigger Condition object by editing its layout.

New Trigger Conditions
You are enabled to use the following Condition Operators depending on the selected Field type:
Is
Is not
Contains
Does not contain
Is greater than
Is less than
Intersects
Enhanced Email Template
During the last iteration, our team performed code refactoring and optimized the Email Template of the app. As a result, setting up an Email Template is now more user-friendly and happens much faster as compared to previous versions of the application.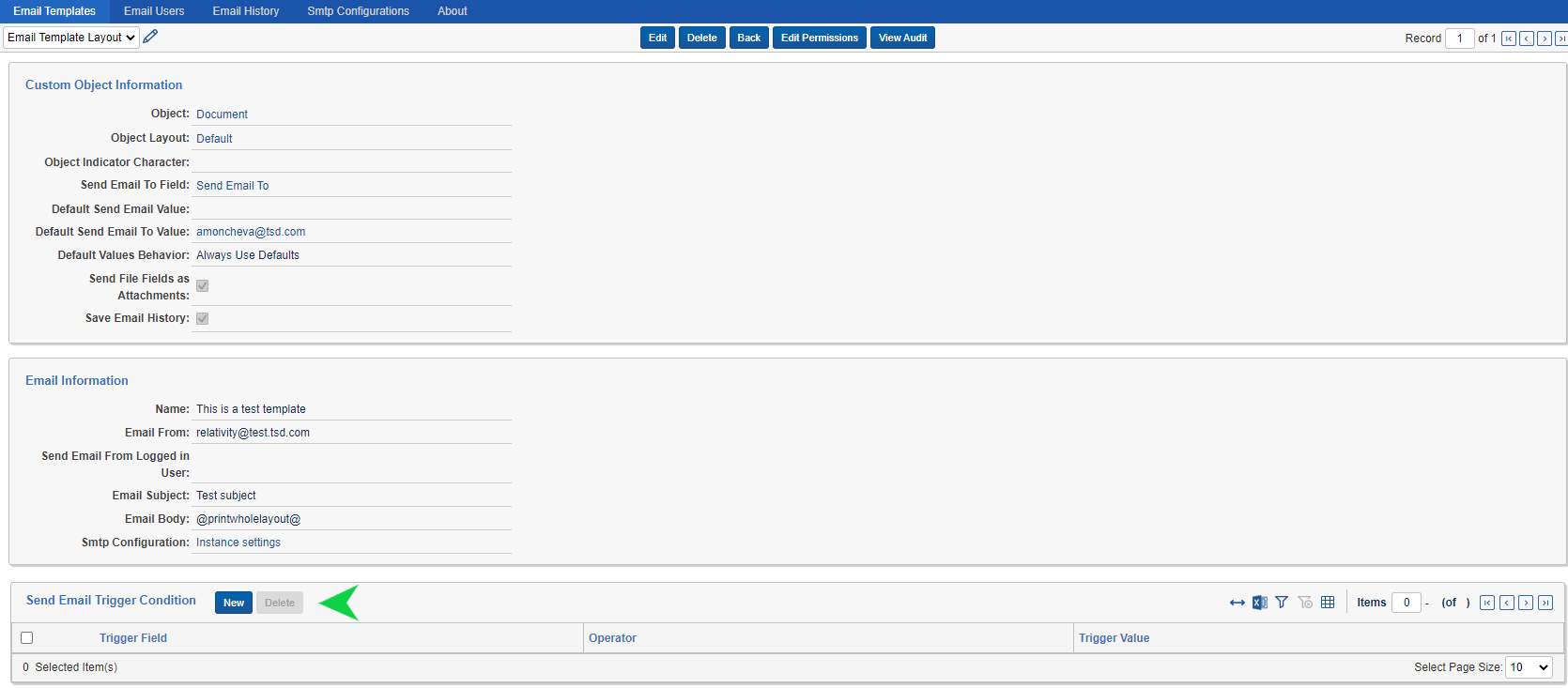 Instant Migration from Older Application Versions
We implemented a migration logic, so when an upgrade from an older version is performed the values of the legacy Trigger Field (for existing Email Templates) are migrated to the new Send Email Trigger Condition Object.
Keeping team members updated about changes on different Relativity objects has never been easier!
If you are interested to see more of TSD Email Event Handler and find out how it can add value to your Relativity experience, reach out to us at sales@tsd.com and ask for your free live demo.